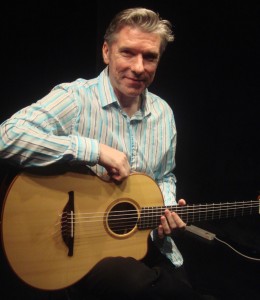 Nigel Clark is one of the UK's top acoustic guitarists. He was the guitarist and arranger with eighties' chart band Hue & Cry before going on to an illustrious career playing, recording – and touring the world.  He has worked with such supreme talents as Moya Brennan of Clannad, soul music superstar Gloria Gaynor, jazz diva Carol Kidd, the giants of European jazz guitar; Jan Akkerman and Philip Catherine and American jazz icons Steve Swallow and Carla Bley.  He has also worked with multi award winning cinema composers Craig Armstrong and Brian Byrne.  Born in Scotland, Nigel began his professional career at the age of eighteen in London. He now lives in Dublin Ireland.
Projects;
With the Irish songwriter Colette Cassidy he released an album of original songs "Confetti Falling In The Rain" (2017).
With the Dutch violinist Tim Kliphuis he released the album "Reflecting The Seasons" the music of Antonio Vivaldi for Sony Classical Records (2016).
With the jazz guitarist Hugh Buckley he released a duets album "The Day Of The Duo" (2015).
With violinist Tim Kliphuis and the Stellenbosch Camerata he recorded special arrangements of J.S. Bach's Brandenburg Concertos, released on Sony Classical Records in September 2018.
Nigel is on tour promoting the above projects as well as his solo guitar work. He is currently preparing arrangements for a follow up to his critically acclaimed solo guitar album "Under The Stars" (2012).
 WITH TIM KLIPHUIS
Nigel has recorded and toured for ten years with Dutch jazz violinist Tim Kliphuis' groundbreaking classical/folk/jazz trio. Described as "the most breathtaking show you'll hear this year" the trio's performances have blazed a trail across Europe, delighting audiences with their "total music" where improvisation is set at the core of a myriad of music styles. In May 2015 in Amsterdam the Tim Kliphuis Trio performed a specially arranged version of Vivaldi's "Four Seasons" with the Netherlands Chamber Orchestra and classical violin virtuoso Gordan Nikolic.
In April 2017 Nigel with the Tim Kliphuis Trio played for the Dutch royal family at a televised concert for the king's birthday celebrations. The subsequent spike in online sales resulted in a number one chart position in the Dutch classical music charts.for the album "Reflecting The Seasons" (Sony Classical records).
24th July, 2018 – Tim Kliphuis, Nigel Clark, Roy Percy, the Stellenbosch University Camerata and Cape Town Philharmonic collaborated in the recording of a new album titled, "Concertos."  Released in September 2018 on Sony Classical Records the album features a "total music" reworking of  J.S. Bach's masterpiece  the "Brandenburg Concertos." On July 4th 2019 the Tim Kliphuis Trio, accompanied by the Netherlands Chamber Orchestra, will premier "Concertos" at Amsterdam's famous concert hall, the Concertgebouw.
NIGEL CLARK, HISTORY
In the late eighties Nigel joined the Glasgow band Hue & Cry. He recorded and toured with them in the UK, Europe and in the U.S. and he also contributed arrangements to the band's top ten singles and albums.
High profile collaborations followed with Moya Brennan, (lead singer with Clannad), and with jazz vocalist Carol Kidd. He also worked on BBC TV as musical director and guitarist for soul superstar Gloria Gaynor.
Nigel's first recording as a band leader, "Worldwide Sound" featured some of the UK's top instrumentalists, including multi award-winning pianist Brian Kellock, saxophonist Tim Garland, (now with Chick Corea's Origins Band) Ewen Vernal on bass and Mike Bradley on drums. The album wowed the critics, showcasing Nigel's highly eclectic compositional style, and it reached the top ten in the UK jazz charts.
Following the recording Nigel appeared at the North Sea Jazz Festival at the invitation of his boyhood hero, guitarist Jan Akkerman. In Cannes the same year he performed with Akkerman, Terje Rypdal and Wolfgang Muthspiel in a band featuring eleven of Europe's elite guitarists. The performance was witnessed by Bob Karcy, CEO of Grammy-winning New York label Arkadia Records who invited Nigel to sign an exclusive five-album recording deal. "Grand Hotel Europa" Nigel's first CD release in the U.S. featured five of his trademark compositions and marked a permanent switch to nylon-strung acoustic guitar.
SOLO JAZZ GUITAR
In 2012 Nigel recorded his first album of solo guitar arrangements titled "Under The Stars" for the Edinburgh based Circular Records and began touring as a solo concert guitarist in the UK and Ireland.
Other high profile projects for Nigel have included a duo concert performance with the Belgian guitar legend Philip Catherine.  Back in his native Scotland Nigel co-founded the Scottish Guitar Quartet, performing across the UK, Ireland and at major European festivals including the Vienna Guitar Festival.
WITH OLEG PONAMAREV
With Russian Gypsy violinist Oleg Ponomarev Nigel formed the trio "Koshka" and performed in Russia, Germany and across the UK.   Koshka have appeared at the prestigious Sundsvall Music Festival, Sweden, with the Nordic Chamber Orchestra under the direction of conductor Maria Eklund.
SOUNDTRACKS
Nigel was recently asked to add his unique acoustic guitar sound to the soundtracks for the films "Me Before You" and Oliver Stone's "Snowden" with music by Golden Globe/ Grammy winning composer Craig Armstrong.
In June 2017 Nigel collaborated with Golden Globe winning Irish composer/arranger Brian Byrne and Irish songwriter Declan O'Rourke to promote the project "Goldenhair"; music by Brian Byrne with lyrics by James Joyce.